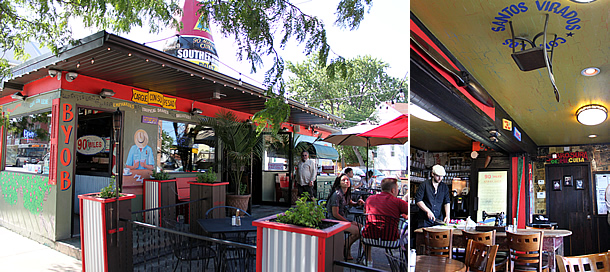 Photo from http://www.foodsmackdown.com
Even though it's technically in Logan Square,
90 miles Cuban Cafe
is only about a 15 minute walk from
Ray's Bucktown Bed and Breakfast
, and also boasts one of our favorite restaurant amenities - it's BYO. It's got an all season covered patio (it was 30-something degrees last night and we were perfectly comfortable) and a pretty engaging service staff. Here are some things we thought you might like to know:
-Their slogan is "taste the forbidden" - so even if our dear motherland is not so crazy about citizens visiting Cuba, you can still get a taste for the food.
-Our waiter (we regretfully did not take the time to remember his name) has been there since the day they opened, and will not let you order something he doesn't think is one of their best. Seriously, he refused to take our initial order of the Vaca Frita, and only came back after we had chosen Fricase de Pollo. He also made quite clear that he would still have rather us ordered the Churrasco.
-The Cafe con Leche (coffee with milk, sweet) is not to be missed.
-If you bring a bottle of wine to share (or 2, or 3), they will not let you leave with an open bottle. Technically it's "illegal" and they could get in trouble. They are willing to make a scene over this if you are...
-appetizers are in the 4-8 bucks range, we got the empanadas, 3 for $6 or so.
-Entrees are around 13-22 bucks.
Overall it's a great spot, if you get there before around 7 it's not too busy at all, but will fill up throughout the night - it remained pretty busy and we were there around 630 on a Monday. Located at
2540 W Armitage Ave.